LEARNING TO COOK RENDANG AYAM
When you arrive in Malaysia, one of the first things that strikes you is how the different cultures and religions that populate the country converge and intertwine. Walking around Kuala Lumpur, there are only a few streets between the colourful Hindu temple Sri Mahamariamman and the Taoist temples Guan Di and Sin Sze Si Ya in Chinatown, as well as the impressive Masjid Jamek Mosque. The colours, songs and traditions of the many ethnic groups that make up Malaysia's population overlap, and with them their aromas and flavours.
Like other Southeast Asian countries, Malaysia smells of fruit and spices, but it also brings together culinary traditions from many different countries, giving the country's cuisine a unique variety. Of all the Malaysian delicacies, one that should not be missed in the capital is Putu Bambu Tradisi. (Instagram @putubambu_tradisi).
A small food truck in the Central Market awaits anyone wandering through the market with an unmistakable aroma.
The texture and softness of these little sweets, which owe their green colour to pandan leaves (an Asian plant widely used in local cuisine), surprise locals and foreigners alike.
Nothing better than a local recipe!
Amidst this effervescence of gustatory stimuli, I was lucky enough to learn a little more about the traditional way of cooking from Malaysian friends I met while volunteering at the Sahom Valley Resort (Kampar, Perak). Local people were able to explain to me how they do things on a day-to-day basis and the intimacy of their homes. After getting used to eating Nasi Lemak – a rice-based dish – for breakfast and sweetening my drinks with condensed milk, I was seduced by the wide variety of tasty dishes such as Mee Goreng (fried noodles) with Ayam (chicken).
It is in this context that I had the opportunity to spend an afternoon with Naddya and Ilham learning how to cook Rendang Ayam (chicken rendang). This recipe, originally from Indonesia but very popular in Malaysia, is often cooked as a celebration and in honour of guests or invitees. Naddya was kind enough to write me the recipe in Malay, which I have summarised in English below.
Cooking
Boil the chicken. Chop garlic, turmeric, ginger and onion. Make coconut crumbs and fry. Add the spices: meat curry and Serbuk Rendang. Add the boiled chicken water. Add the chicken. Prepare coconut milk (milk plus water) and add a little (not too much so that it is not oily). Cut the turmeric leaf into thin strips and add.
All set up
When everything is ready, it is served on the floor on a blind in the traditional way: the dishes are all arranged simultaneously in different bowls. In one is the Rendang chicken, in another the main side dish, which is rice, and in the rest other side dishes such as lettuce or potatoes, as well as a small bowl with a homemade chili-based hot sauce.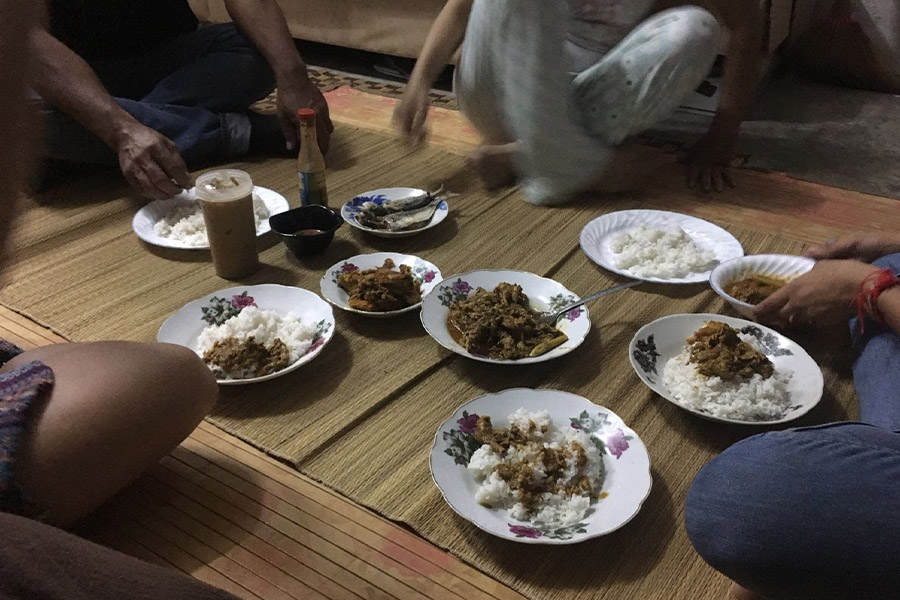 Time to eat
At mealtime, seated on the floor around the food, each diner helps himself to his plate and eats with his hands. All that remains is to enjoy the food and the company.
You will also need…
To cook this tasty recipe at home as we prepare it, you need the spices and preparations shown in this picture, namely the red sachet "Serbuk Rendang". The orange sachet is turmeric powder, which you can get directly from the turmeric root, as well as ginger.
If you are travelling to the land of Hibiscus, you can find these sachets in any 7-Eleven, but watch out for the expiry date. You'll have to prepare the recipe quickly back home, so don't forget that it's made in honour of your guests: a nice reason to enjoy it in good company.
Enjoy your meal!