It is possible to print photographs using nothing but juice extracted from the petals of flowers, the peel from fruits and pigments from plants.

Malin Fabbri, 2012, Anthotypes – Explore the darkroom in your garden and make photographs using plants
Today I am going to talk about analogue photography and alternative photographic processes in terms of sustainability and ecology. For this, I benefit from the contribution of Chiara Salvi (Florence, Italy), founder and director of the online school The Alternative Processes Academy (APA). If by the time you've finished reading this article you've got the bug and want to enrol in Chiara's school, you'll find a €100 discount to help you get started!
Developing with coffee? Making photographs with flowers? – What's it all about?
ANALOGUE PHOTOGRAPHY'S REVIVAL
In the age of digital photography, analogue photography came back into fashion a few years ago, leading to the appearance of new products such as Fujifilm's Instax cameras, and the question was: is it the new trend among young people or is it back to stay? Apart from the professional sector, many of the people interested in analogue practices were not only interested in recovering the use of 35mm film cameras, but also in understanding how darkroom development and printing works, to do it themselves instead of taking it to the lab.
In the practice of analogue photography, one of the problems today is the lack of resources, as many factories have stopped supplying materials and prices have been rising. Second-hand equipment is becoming increasingly scarce, and while a few years ago it was in abundance and at very low prices on platforms such as Wallapop, nowadays it is increasingly difficult to find it.
Analogue photography and sustainability
Another problem is the difficulty of making analogue photography in an environmentally responsible way. Global environmental awareness is a relatively recent reality. Traditionally, there was no concern about the impact of using these chemical and toxic materials at home. This is why the revival of historical methods of photography has been accompanied by new, more eco-friendly possibilities, such as green developers like caffenol (coffee) or herbinol (peppermint).
New initiatives have also emerged to approach the darkroom through the prism of the circular economy. The Sustainable Darkroom collective in the UK, for example, talks about this, or artists such as Charlotte E Padgham, who recovers and reuses laboratory waste to create silver jewellery, are using these principles.
GREENER ALTERNATIVE PROCESSES
The recovery of traditional photographic processes has not only focused on film camera photography, but has also been interested in other techniques that emerged even earlier. This is the case, for example, of anthotypies.
The Anthotype is a camera-less photographic technique that uses the photosensitive qualities of plants and flowers. The paper is soaked with a dilution of the pigment in water or alcohol, and the image to be "printed" is placed on it, either an element (leaf, flower, etc.) or a photograph, and exposed to sunlight. In the second case, it must be a positive transparency (we do not use negatives as the sun generally does not darken the colour, but bleaches it). To give you an idea, you can see more examples in my photographic portfolio.
The origins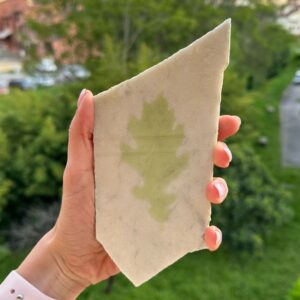 This technique appeared in the 19th century at the hands of scientists and artists. In 1816, Henri August Vogel discovered that the juice extracted from plants was sensitive to light, and a great deal of research began to develop, such as that of Mrs. Mary Somerville, who was never able to publish it because she was a woman. Robert Hunt, one of the founding members of the London Photographic Society, experimented with organic and inorganic photosensitive substances and published numerous works such as Researches on Light. Sir John Herschel was a key figure of that period, both for Anthotypia and for photography in general, for it was to him that we owe terms such as "positive", "negative" and "snap-shot".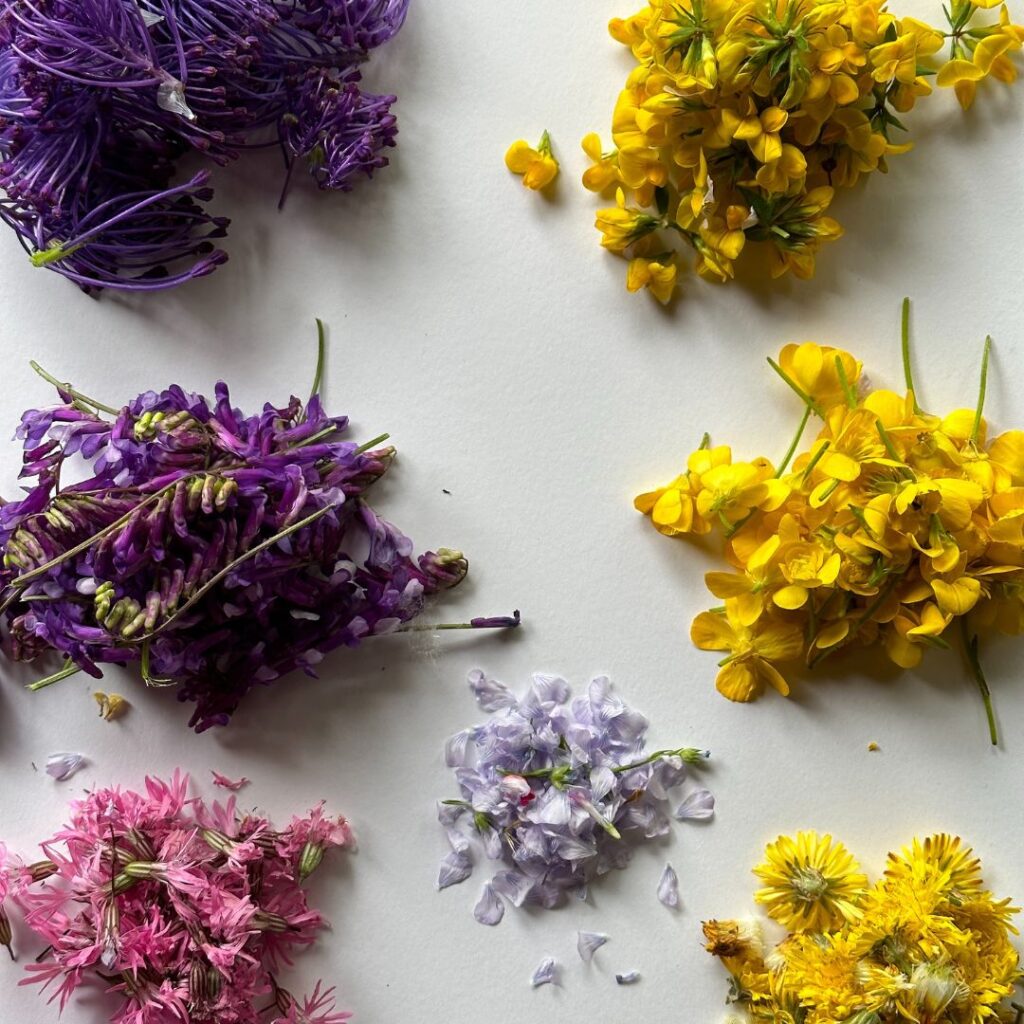 Anthotypia has a lot to do with painting, as traditionally artists also created their own pigments from natural elements, which they then used to create their watercolours or oil paints by mixing them with linseed oil or gum arabic. For example, the red pigment was created from Granza (Rubia tinctorium L.), one of the oldest dye plants, or the blue pigment from Pastel (Isatis tinctoria), a plant native to the Black Sea. However, painting seeks stable pigments, which do not vary with light, while Anthotypia seeks the opposite, highly photosensitive pigments for greater contrast.
FROM IMMEDIACY TO PERSEVERANCE
The interest in these techniques comes not only from the fact that some of them are completely ecological, but also from the fact that they imply a particular lifestyle.
At a time when everyone has a mobile phone with a high quality camera in their pocket and images can be viewed and shared instantly, looking back is also a return to the slow rhythms and the laboriousness of the past. To make them requires patience, as it often takes days for the image to appear. Many of them bring us closer to the natural world and help us discover the properties of the plants around us. They are done in daylight rather than in a darkroom or by digital means, and depend on atmospheric conditions. The connection with the environment is crucial, and this helps to reconnect with the natural world instead of distancing us from it.
There are many other fascinating alternative processes, but it is often difficult to find information about them. We are talking about techniques such as chemigrams, phytograms, Lumens, cyanotypes, chlorophyll prints, liquid emulsion, etc. Fortunately, more and more options are appearing to approach these historical techniques. In Spain, for example, this summer 2023 La Casa Encendida in Madrid offered a monographic series on some of these techniques. But today, surely the most accessible, complete, available all year round and up-to-date option is the online school The Alternative Processes Academy.
TALKING WITH THE FOUNDER OF APA
The Alternative Processes Academy is an online school founded by Chiara Salvi that teaches all these alternative processes and many more.
Chiara studied Photography at the London College of Communication (UAL) and lived there for 5 years. Back to her homeland in Florence (Italy), she found a great lack of resources, possibilities and community around analogue photography and alternative processes. So she decided to create an online school herself, available to everyone regardless of their location, that would not only offer training but also a space for exchange and collaboration.
She tells us about it first hand!
Interview with Chiara Salvi
At what point did you become interested in alternative photographic processes? What is it about them that attracted you?

It happened in my last year of university. I went to the London College of Communication in London – I was there studying for 3 years. We had a darkroom there and a bunch of workshops – like introduction to darkroom printing or cyanotypes – so I became increasingly interested in these more tactile experiences with photography, the material behind them, the sensitive surfaces… I also attended a bunch of The London Collective workshops, symposiums and talks really interesting. It was really natural to me to go from digital to analogue – is this interest in surfaces that for me was key to this transition.
It is unusual to create an academy for alternative processes, as it targets a very specific niche. How is this adventure going so far? Do you have enough students to make it a viable project?

Yes, it has been a very adventurous endeavour. Curiously, I started recording for the Academy in Bangkok, and that's because last winter I was in South East Asia working remotely. I got this idea about September and I didn't even wait to see if it was a viable idea. At that moment I thought "Ok, I am going to announce it to the world and then see how it goes". I receive a lot of support and interest so then I thought I had to make this happen! First, I set a launch date in April of the following year (2023) and then started working on it. I rented a darkroom near Lumphini Park in Bangkok and I can say it wasn't easy.

From a foreign country and with the difficulty of obtaining chemicals, I was lucky that the people from the Darkroom helped me so much. I was recording every day and it was very hot, so all the chemicals were heating up very fast… I was there morning and afternoon and then I was editing at night. It was really intense! But then I launched it and it went so well – we now have 250 students currently enrolled into the course!
For people interested in enrolling, could you explain a bit more about your Academy? For example, do you teach all the modules yourself or do you have external teachers?

I did everything myself. I've always been interested in a lot of different processes. I begin with one and then when I achieve good results, I want to do something else – I get bored very easily. So, I ended up with this extensive knowledge of alternative processes, and finally I did something with it. As you were saying, it is not easy to come across of these information out there, is weird stuff. There is a bunch of people in the world interested but there is no much information, resources or courses about it. Finally, it is because it's so niche that it worked.
Totally! As a person interested on these processes, I can confirm that is not easy to find specialised platforms or trainings about it, and as it is online, your Academy is very accessible. What are your impressions on having an online Academy so far?

So we have the community calls once per month because of the lack of proximity. I also offer some office hours when people can come to me and ask me questions. But as I'm always been a big traveller and moved countries several times, I wanted something accessible for everyone in the world, not something location based. I did a few exhibitions and workshops in person but I wanted it to be something bigger. Because it's born as an online platform, I want to keep it that way. There is a beauty in contact and networking, and it's true that there is a discrepancy doing something with photography which is so tactile and hands-on and physical, as an online course – but to me it's the way to reach more people.
Those of us who lived through analogue knew about the abundance of stock and low-cost materials. Do you think there will be an increase in production due to an increase in demand, or that camera-less techniques will be a viable alternative if prices become more and more prohibitive?

I think they are and alternative, and I also think that this increasing cost definitely affects this movement of people more interested in sustainable processes like anthotype or clorophyle printing. That's also why I wanted to put this in the course curriculum, I wanted it to have a very important component of sustainable processes. But is also about not being able to sustain all the chemicals that are being used in the darkroom so far – I mean we don't have enough waste facilities to disposal them to avoid polluting the environment. I want to give people an option, but there is always going to be people working with film on the darkroom, and that's fine. We need to keep multinationals, companies and governments accountable and no ourselves to de point that we think it's everything up on us.
Speaking of the darkroom, there are people currently approaching it from a sustainable and circular economy point of view, so more eco-friendly things can be done even inside the darkroom, can't they?

Yes, so many things can be done! For example, chemicals are no single use, they can be reused so many times – I don't say that in my Academy because if you use them more than 2 or 3 times it may happen that if you are working on an important project it doesn't come up perfect, and I can't take responsibility for it. Personally, I use my chemicals until they are exhausted and then I do chemigrams with them. You can also contact a waste facility place near you to get directions about how to dispose of chemicals.


Another example, sodium carbonate and calcium carbonate which are used for cyanotype bleaching can be reused endlessly. Caffenol (a developer made of sodium carbonate, Vitamine C and coffee) too. Another thing that is not very sustainable in alternative processes is the washing phase (when you have to wash your print), as it may take 10' – 15' and I always say "of running water". But I want people to get this information and make it theirs. Of course I am not going to wash my print for 10' but I have to say that because don't do it may cause a colourshift on the toning. It's on the artist to asses responsibly whether wash it for less time.
Regarding all these so-called "sustainable" methods, they always have something that is not. For example, in Chlorophyll printing we use photographic transparencies that are printed on acetate.

Exactly, but transparencies can be reused endlessly. For instance, yesterday I did a cyanotype workshop and I used transparencies from 6 years ago! To me, it's like "you take something – you give something". For example, when I explain how to print on seashells inside the "liquid emulsion" module, I say to take just a few seashells and be very careful to not take from protected species or from protected places where is forbidden. And in exchange, take the opportunity to pick up trash from the beach where you are ("you take something – you give something"). Anyway, there is always going to be someone who judges you and who complains about the work you do, no matters how hard you are trying to do better, and that's fine. You just have to let it go and do your best.
As the launch of the school has been a success, what for the future?

We have released a new module very recently, about clorophile printing process. It was a fun one to release because I was waiting for summer in Italy and then summer arrives and it was raining for a whole month! But I managed to release that and it's one of the most appreciated inside the Academy. Some weeks ago, I also released a module about Cianotype on glass and ceramics, and I will release new content on September-October. Then, I don't know, it's still open. I launched the Academy not long ago (at the end of April), so it's hard to think about the future, I just know that I want to keep the Academy growing!
---
Want to start learning today?
Here is a special discount of €100 for you to enrol in The Alternative Processes Academy (APA) more comfortably. Use the discount code ALBACID or directly from this link, enjoy it and don't hesitate to share your results with me by e-mail!
If you have any questions or would like me to talk more about any of the photographic processes, write it in the comments or contact me by e-mail.